The Crafting Guide is a book which can be right-clicked to allow the player to view most of the crafting recipes in the Yogbox. The interface allows the player to select a particular item through a search function or by electing it from the creative mode items menu and filter out all recipes not related to that item. The player can also choose to filter out either smelting or crafting recipes as a whole. The Crafting Guide is one of the items the player will be given upon beginning his or her adventures in the Yogbox, along with a full set of wooden tools and leather armor.
Thanks :)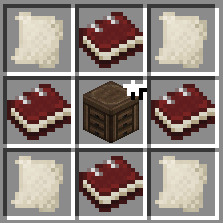 Ad blocker interference detected!
Wikia is a free-to-use site that makes money from advertising. We have a modified experience for viewers using ad blockers

Wikia is not accessible if you've made further modifications. Remove the custom ad blocker rule(s) and the page will load as expected.